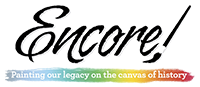 Steering Committee

Establish ENCORE! Mt. Morris

Our role is to serve as guardian of the Encore Mission, implement Encore priorities, to encourage community ties, involvement, provide leadership, identifying financial and other resources & best practices. Responsible for deciding which subgroups are needed to accomplish specific tasks.

We will develop regular, ongoing and effective communications through various systems to internal and external audiences to aid in the revitalization process.
A) Internal communications will strengthen and educate the community in order to support the initiatives.
B) External communications will create awareness of the unique Mt. Morris assets, such as history, commercial opportunities (prospective new businesses), art venues, retail opportunities (current businesses) and quality of life.


Steering Committee
Arts Center
Tourism
Beautification
Small Business
Infrastructure

Encore! Sitemap